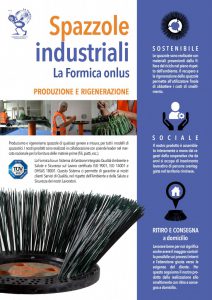 The strong connection to the environment and to the environmental sustainability is what characterises the cooperative since its birth. In this connections lies the motivation that allowed the cooperative to grow in the sector of construction and regeneration of industrial brushes. It represents the new emerging sector, designed according to all the standards of the environmental sustainability, that La Formica have opened for about a year and which aims to promote even beyond its territory.
This sector was officially presented at Ecomondo on November 4, 2015, at the exhibition stand of our partner Rossi Oleodinamica. It was this company based in Riccione, which has been partner of the cooperative for years, to host the presentation, with its own promotional material, of this new production service in a space dedicated exclusively to La Formica. This service is strongly connected to the sector of road sweeping and to the function of environmental hygiene that the cooperative has been carrying out for several years and for which it has also the integrated certification ISO 9001 – ISO 14001 and OHSAS 18001.
The industrial brushes, built in any shape and size, are made entirely by the employees of the cooperative, meeting all the sustainability requirements. The project, which initially came from an internal need of the company, connected to the sector of road sweeping, is carried out by the cooperative in collaboration with leading companies in the national market for the supply of raw materials. The brushes are made with very resistant materials coming from the recycling chain, with elements of great innovation.
This product is called 'silent' because the brush is made out of steel stranded cables covered with a rubber that protects them from wear and significantly reduces the noise that is caused by the scraping on the surface that has been swept. This is fundamental for the use of the brushes in sensitive areas where a more silent use is required, such as the city centre, or areas of high residential density, or during night hours.
The activity is carried out in Rimini, in Via Portogallo, in a specially equipped workshop, where a space suitable for this kind of manufacturing has been created. The brushes can be also modular, which is another characteristic denoting innovation, because it allows a fast assembly, since it is equipped with a 'quick coupling'. This kind of innovation not only facilitates the assembly and disassembly, but it has other positive aspects like the possibility of installing the brushes on any type of sweeper and the reduction of space that the material would take into the warehouse.
The service also provides for the collection of old brushes and the delivery of the renovated ones directly at the client's headquarters.
Please refer to our contacts for an estimate.